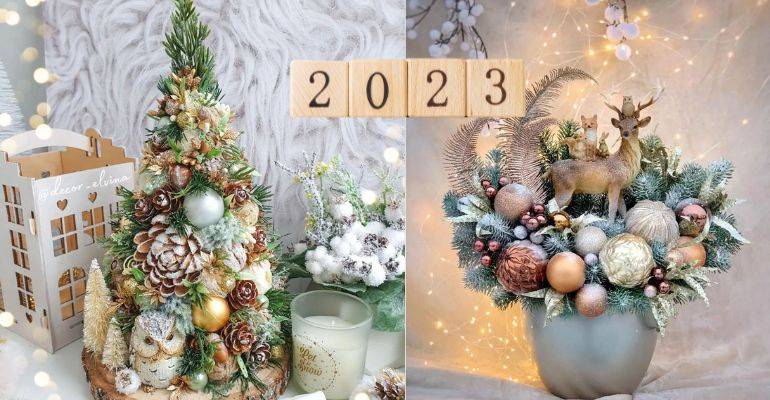 Want to rock the New Year's Eve decor? So, get ready to discover simple and cheap New Year decoration ideas, staying on top of the trends for New Year's Eve 2022/2023.
The options presented are practical and easy to carry out, making you invest the minimum to make the most of it. In addition, the tips will help you imagine many other decorating possibilities.
The general idea is to allow each one to have the autonomy to decorate their space as they see fit, keeping in mind many different references and inspirations.
It has ideas for all tastes, covering the most minimalist styles to the most daring.
Check out every detail to stay on top of everything that is most interesting for your party.
Simple and cheap New Year decoration tips for New Year's Eve 2023
These tips are essential to get your hands dirty and producing fantastic ideas for New Year's Eve 2023 with a lot of creativity and without spending a lot.
With them, it will be easier to ensure that the party is attractive and cheerful, bringing the traditional symbols and colors for this moment.
Read more: New Year's Decor 2022: see 75 inspirations.
Use balloons of different sizes
Bladders in different sizes can form deconstructed arches or bring a more modern touch to traditional hooks.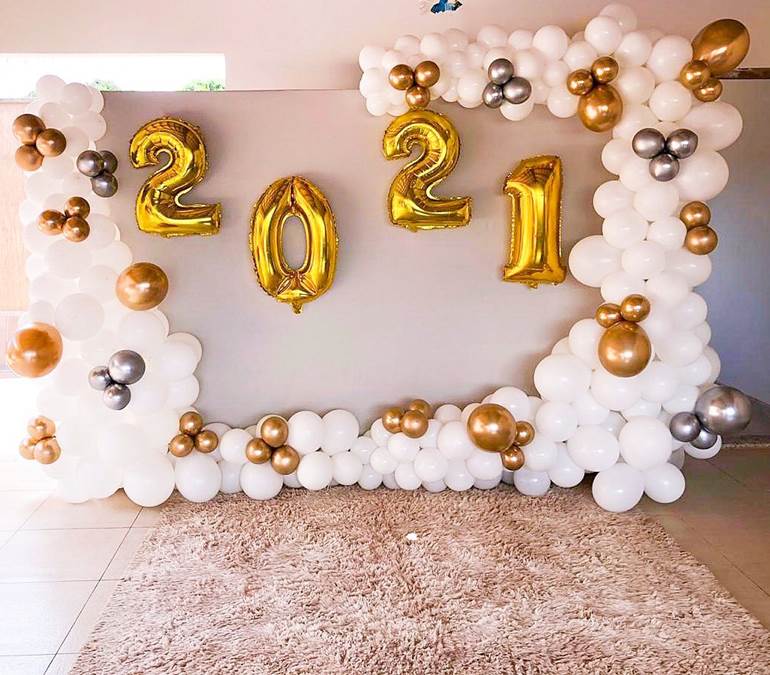 In addition, balloons can fill space in different ways, exploring the sizes of balloons through creative and bold ideas.
Use metallic colors and light tones.
Metallic colors can convey the feeling of luxury, while light tones, such as white and pastel tones, convey lightness for the turn of the year.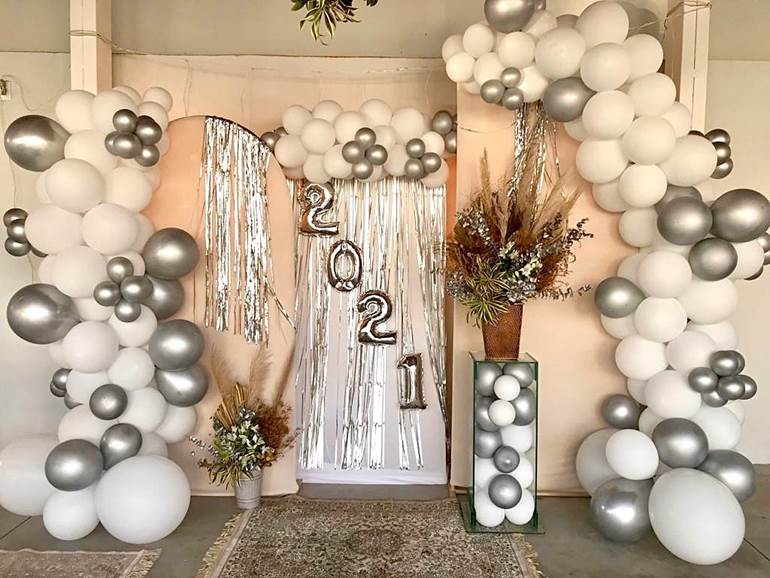 These colors cannot be missing from your decorative palette, although other colors can also be used, such as lilac and black.
Decorate with ribbons and gold stars
Decorated ribbons can make loops and finish many ornaments, for example, filling in the edges of decorative arrangements.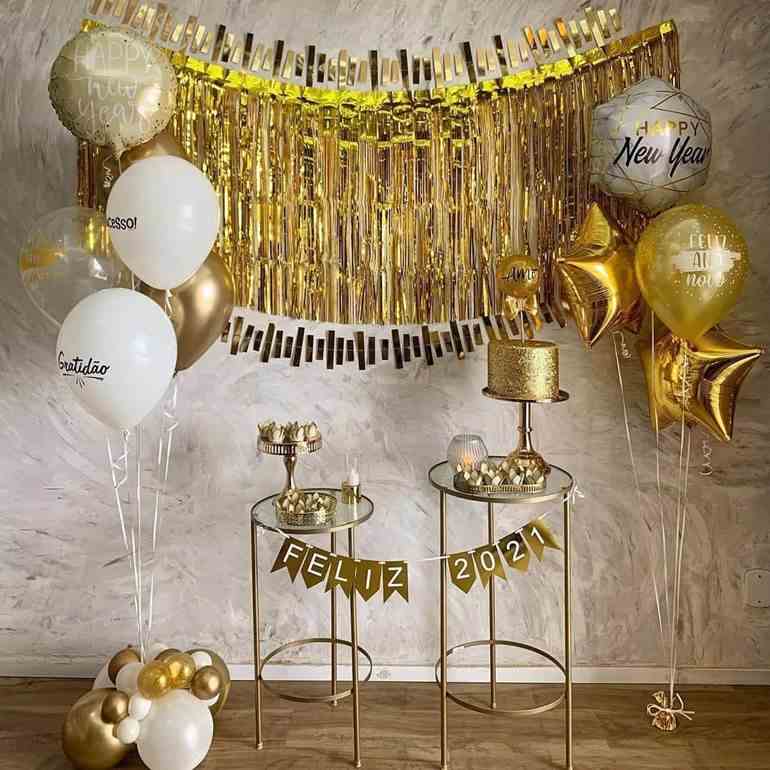 And the gold stars are perfect for this customization, too, as they symbolize prosperity and success for the turn of 2023.
Let the fruits be part of the decoration.
Fruits are common foods in Christmas and New Year's dinners, so it is possible to create decorative structures with these items on the main table of the party.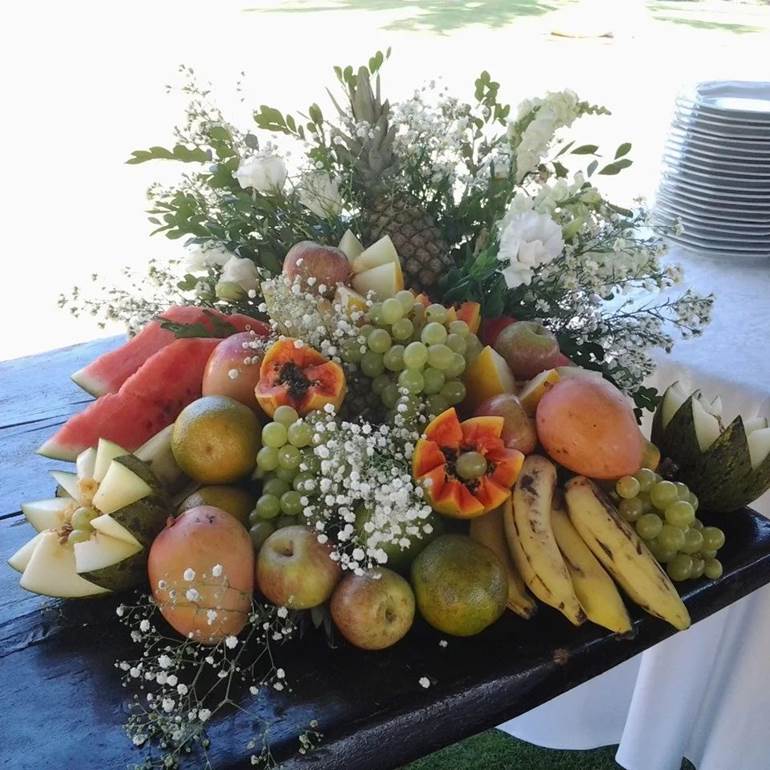 Thus, the fruits will make the space more colorful and can highlight the supper.
Reuse materials you already have at home.
Some materials are commonly reused for the end-of-the-year festivities, such as old Christmas ornaments, glass jars, bottles, boxes, and leftover fabric/ribbons.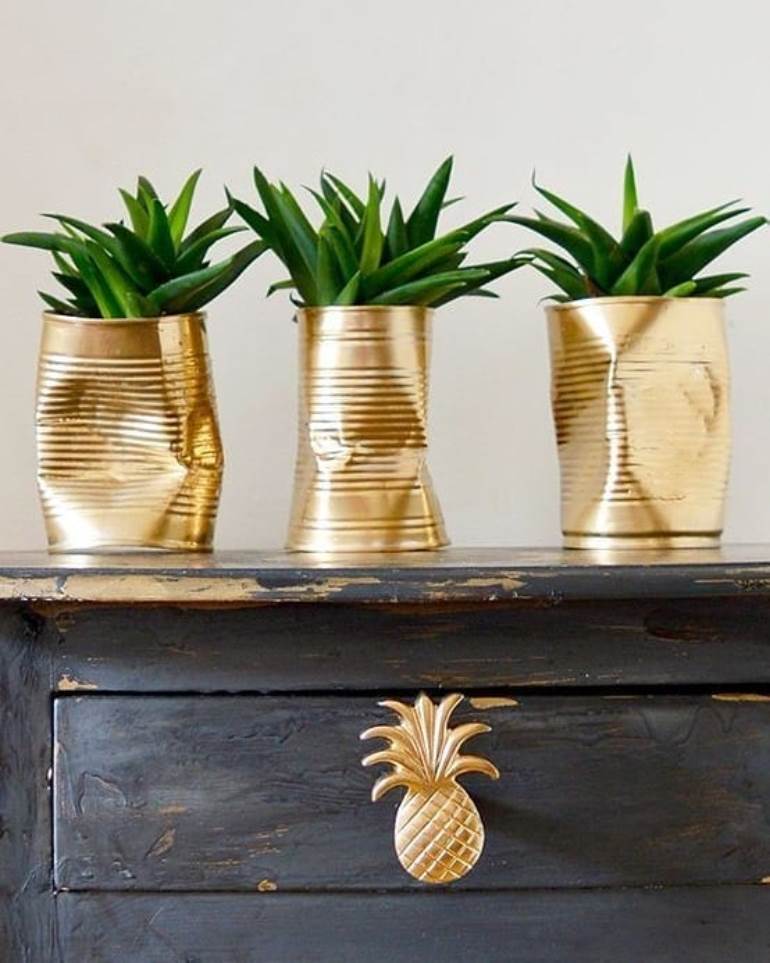 The tip is to customize these materials however you want, painting, gluing, and revamping whatever is possible to create decorative arrangements and various ornaments for the wall or table.
Make cotton flowers
How about using your craft skills to make some cotton flower arrangements to give a different charm to your New Year's party?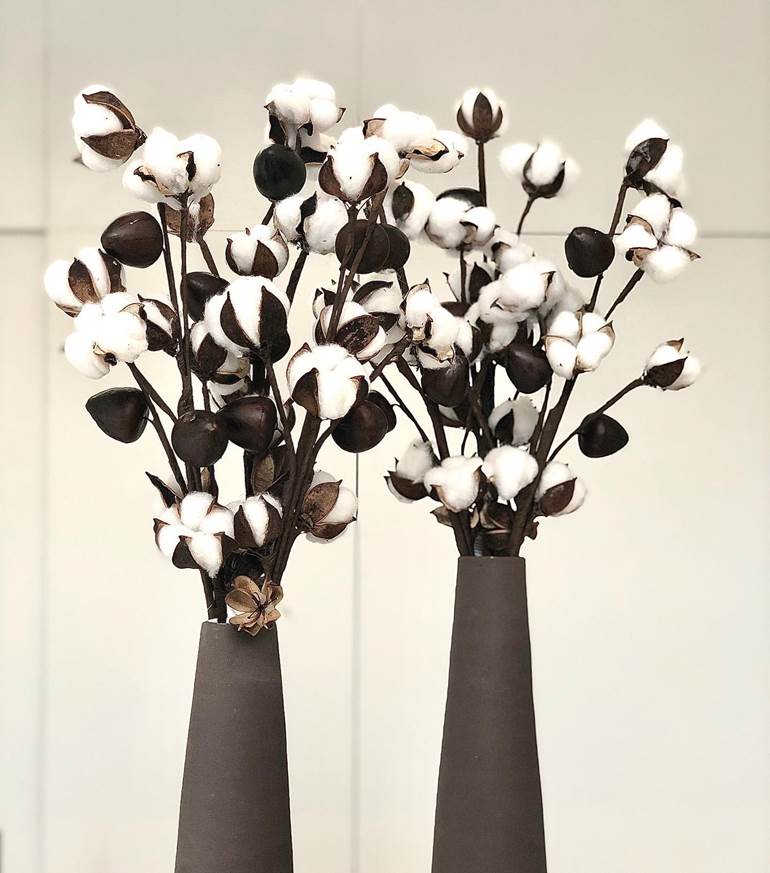 They are charming pieces that can be formed only with cotton and other recycled materials, so you spend little and guarantee a beautiful and light decoration.
Create decorations with candles
Candles form the symbolism of hope and faith. With them, the environment will have a positive atmosphere.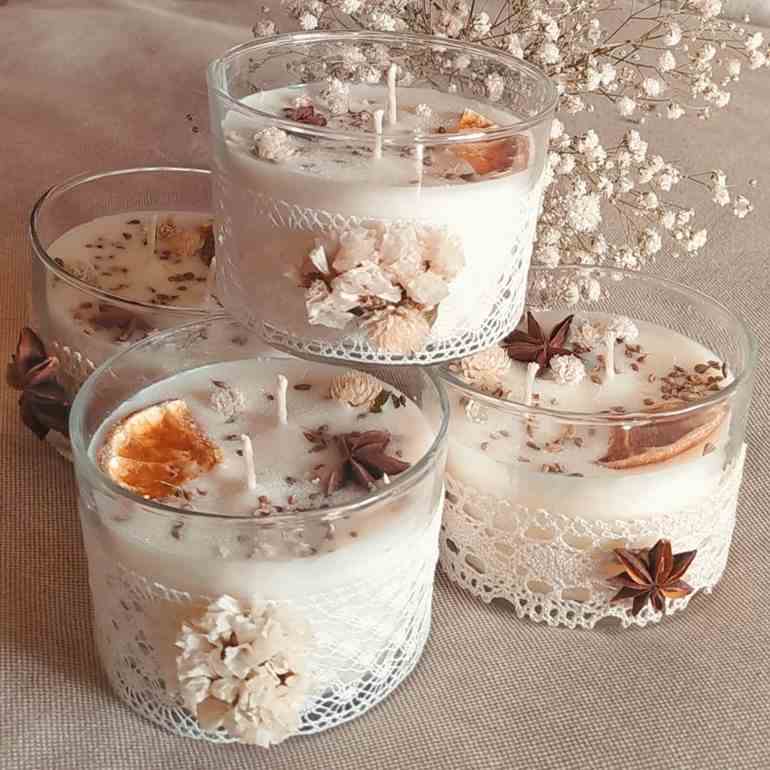 They show the fire of creativity and inspiration, in addition to embellishing the environment with different and creative lighting.
Fill the space with flower arrangements. 
It is not always possible to buy many flowers at a flower shop when you don't have much money, but it is possible to save by mixing natural and artificial flowers in the environment.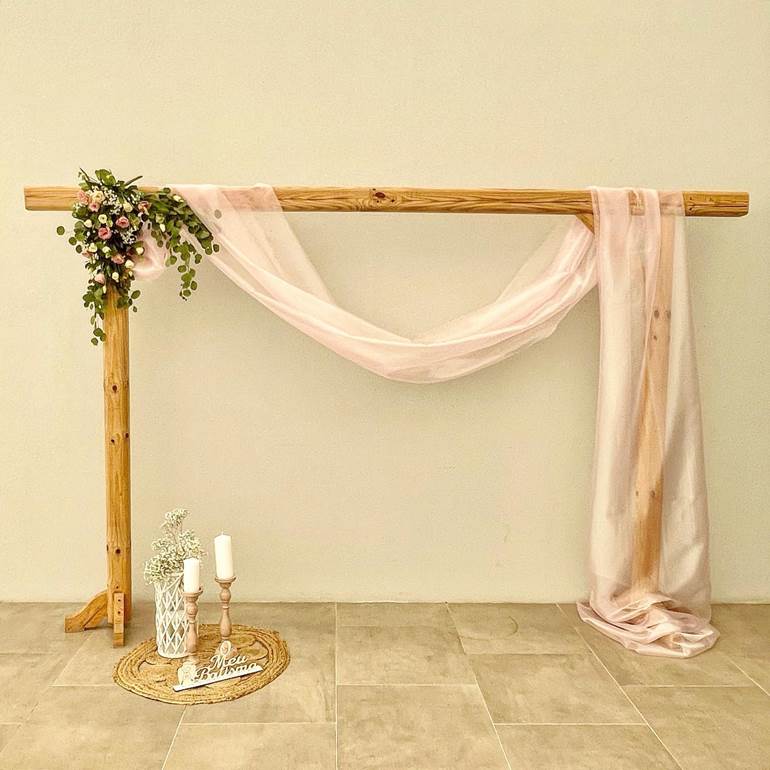 In this case, using flowers will also save you from spending on other ornaments, as they will already do a beautiful decorative job.
Make the numeral 2023 in a creative way
The number of the year will be 2023 and it is common for it to stand out among the simple and cheap New Year decoration ideas.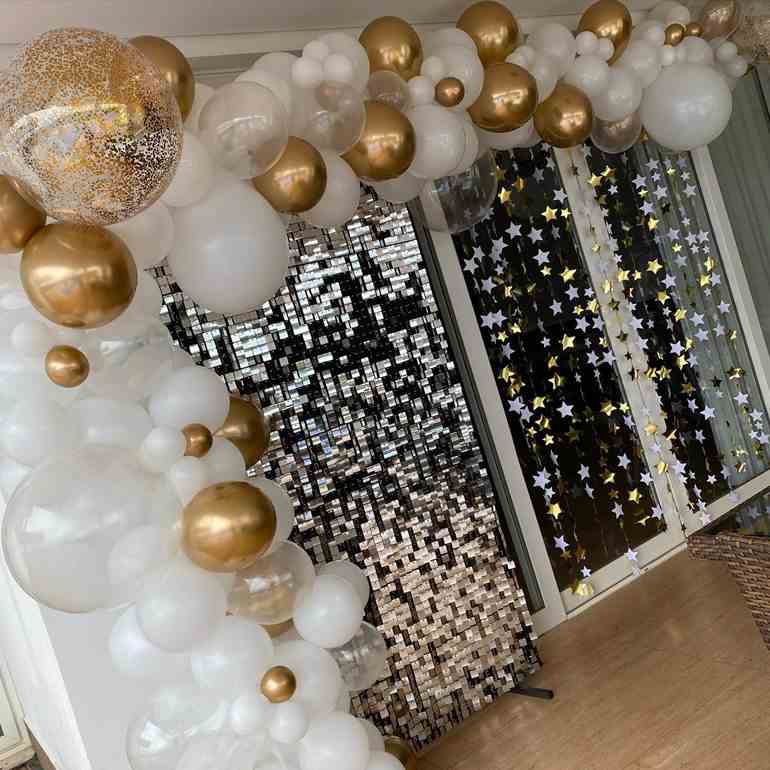 Think about how to make this highlight because the numeral can be made with metallic balloons, flowers, EVA, or thick paper with glitter, among other options.
Decorate the bowls with nail polish
To customize the bowls, you can use nail polish to make dots around the glass (on the outside).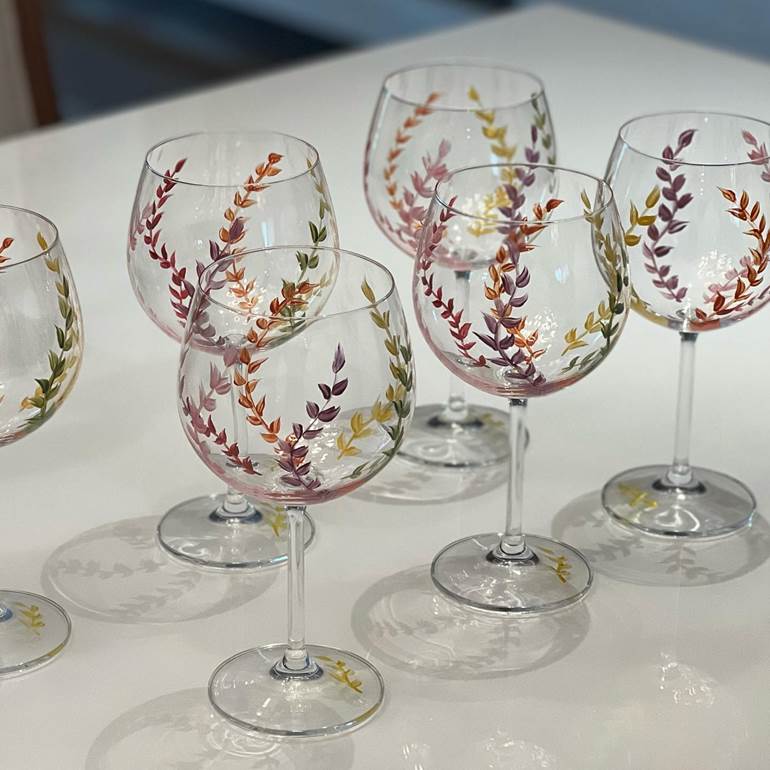 This will add a creative and charming touch and be an elegant alternative, using gold or silver colors to decorate the glasses that will toast the new year.
Recycle Christmas Lights
As mentioned, Christmas ornaments can be reused in New Year's decorations, and the same goes for led lights or blinkers.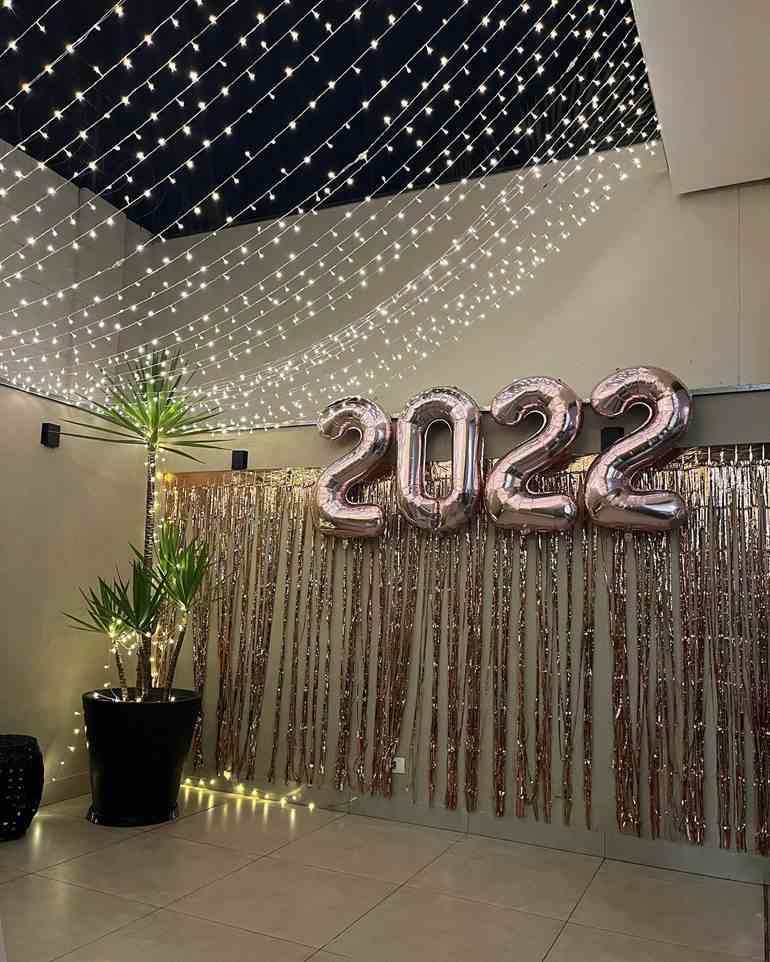 You can also complement the decoration with these lights using broken and decorated lamps or placing them in strategic places to draw the attention of another decoration.
Create a panel with giant paper flowers
The use of flowers in the New Year's Eve party is comprehensive and suggests many decorative possibilities.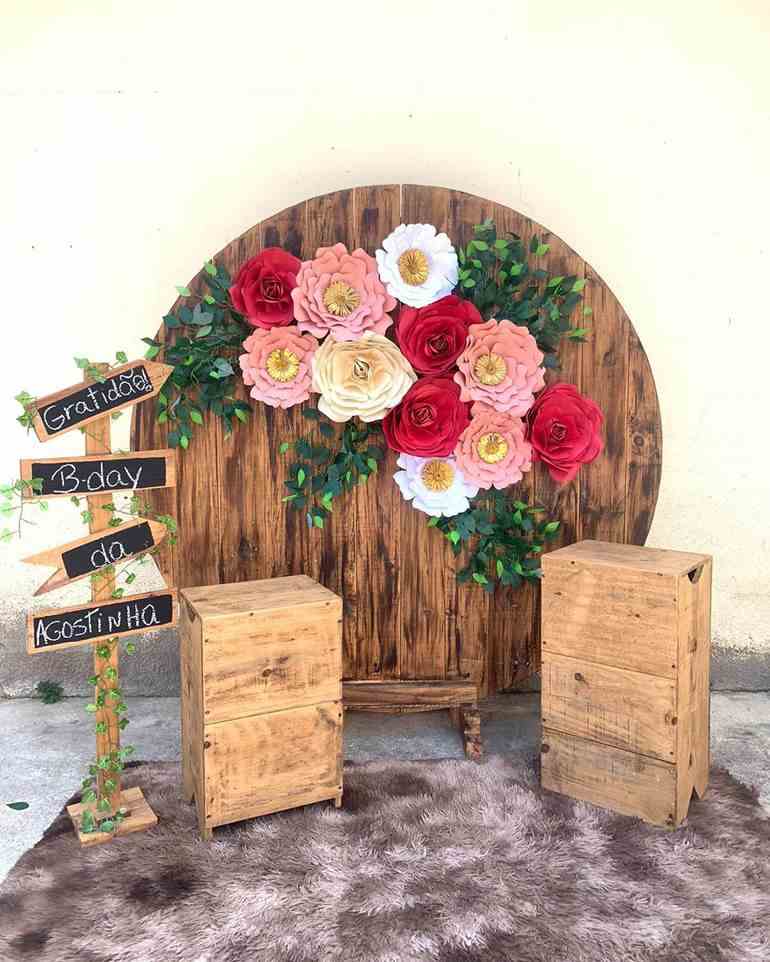 One of them is the panel with giant paper flowers, based on the model you want and using the main colors of your party.
Decorate the table with corks
Start saving or collecting corks to reuse them at the end of the year.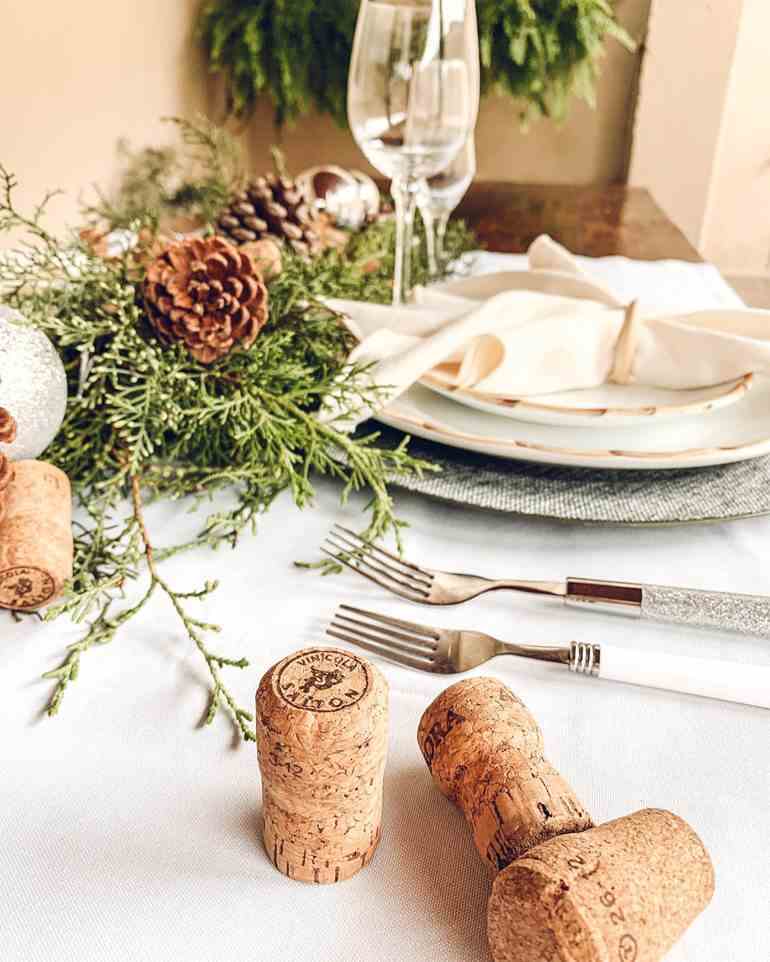 After all, a simple and practical decoration is to spread the corks on the drinks table or create decorative items with them, such as napkin holders or table centerpieces.
scatter confetti
The gold and silver confetti are perfect for being scattered in space.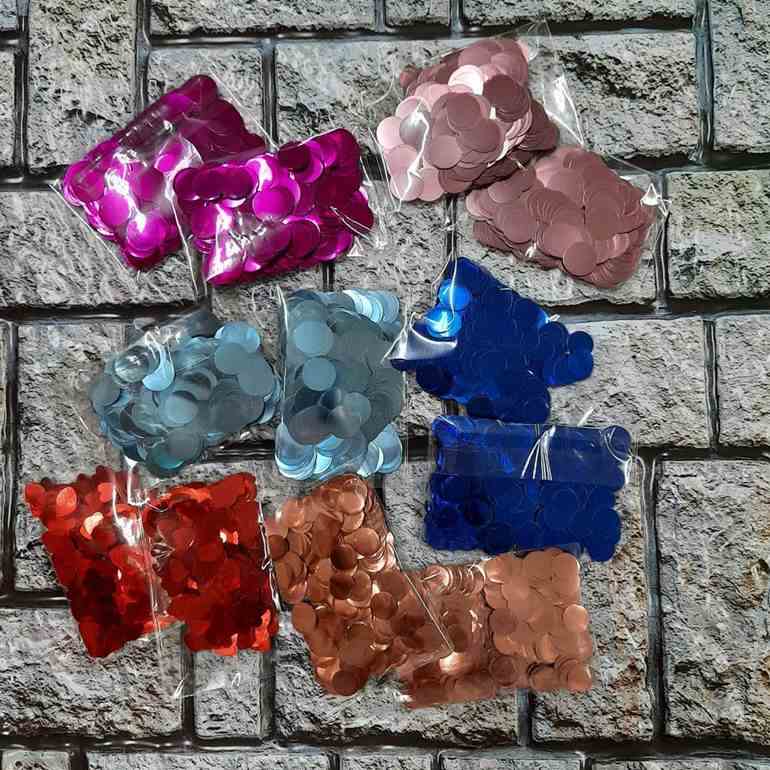 If you don't want to leave the confetti on the floor, only place them in specific spaces, such as on tables, in the dance hall or at the entrance to the party.
Invest in a fake cake
The fake cake can be an alternative if you want to save money on the production of the New Year's Eve cake because everyone knows the importance of an ornamental cake for this celebration.
So, a large model of fake cake will only have a decorative purpose but don't forget to offer other delicious foods and even another cake for the guests.
Make the 2022 retrospective wall.
The 2022 retrospective mural is a simple and cheap New Year's decoration idea and can be made using unique photos that were taken and revealed this year.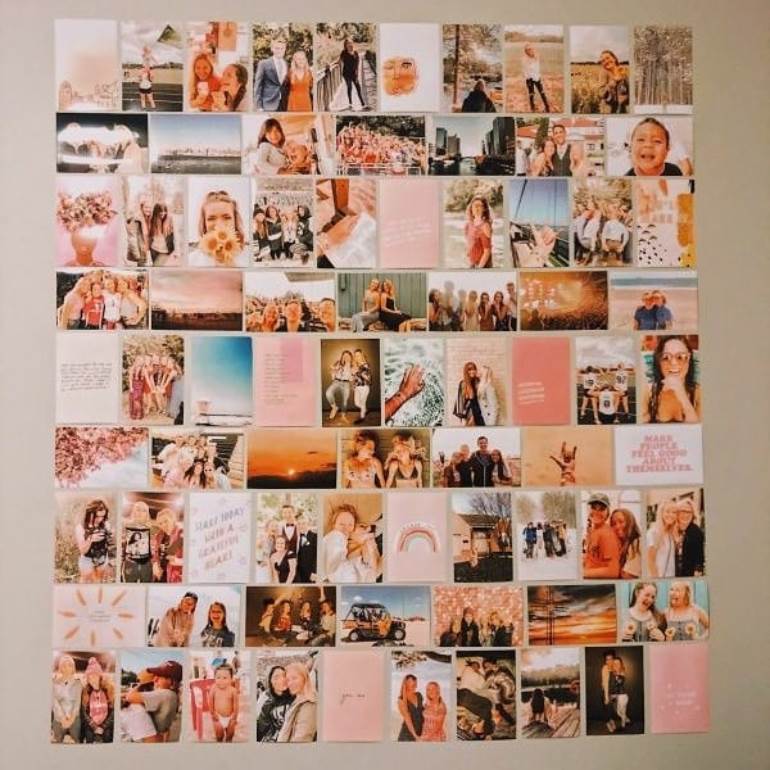 Another way to compose this wall is to write about the most critical events, considering the moments shared with the people at your party.
Simple and cheap New Year decoration tips
Worried about New Year's decor?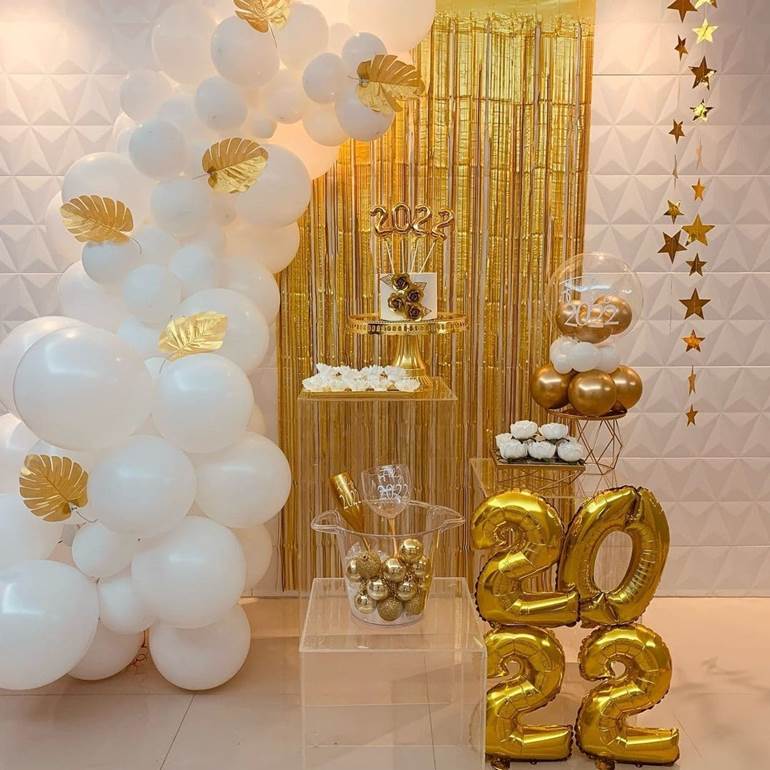 So get inspired by these simple and inexpensive ideas.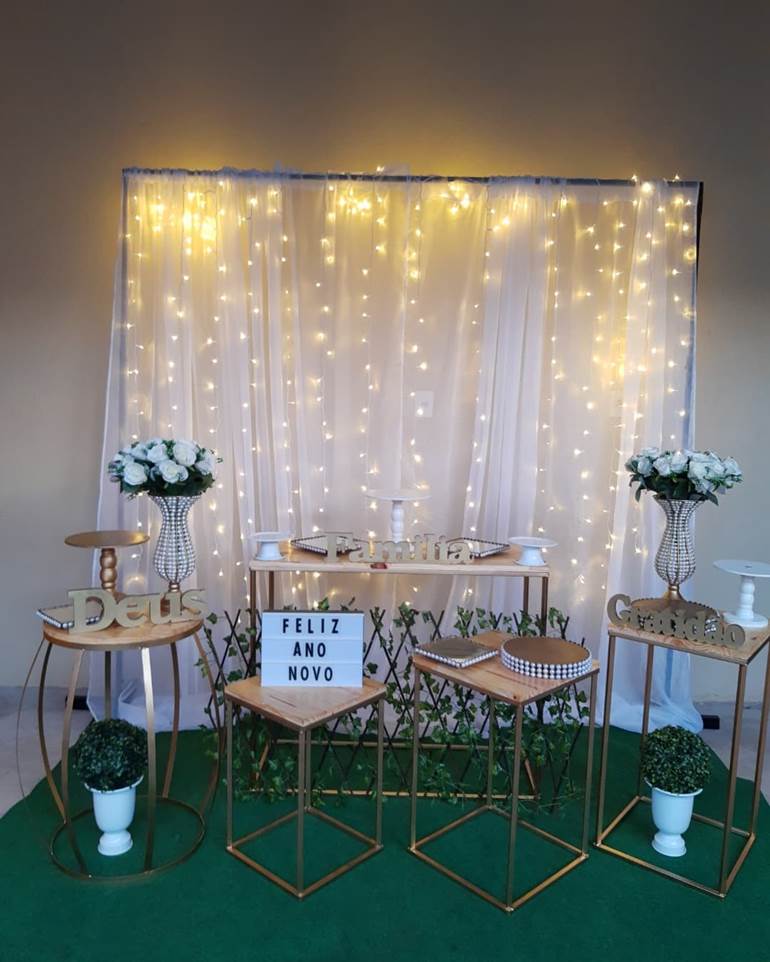 And two elements that cannot be missing are the fruits and the blinker.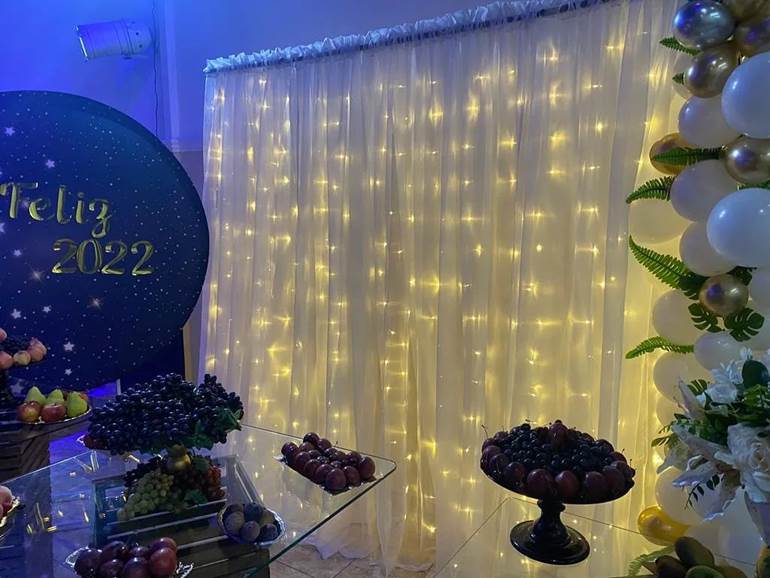 The metallic balloons in the shape of the year will be celebrated too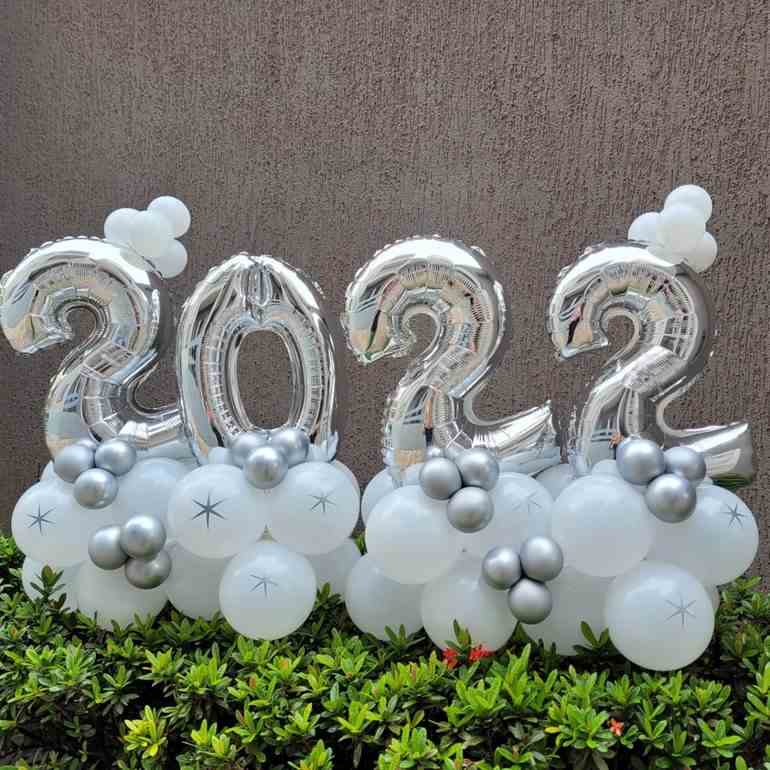 Do you want something cuter than the combination of these elements in shades of pink?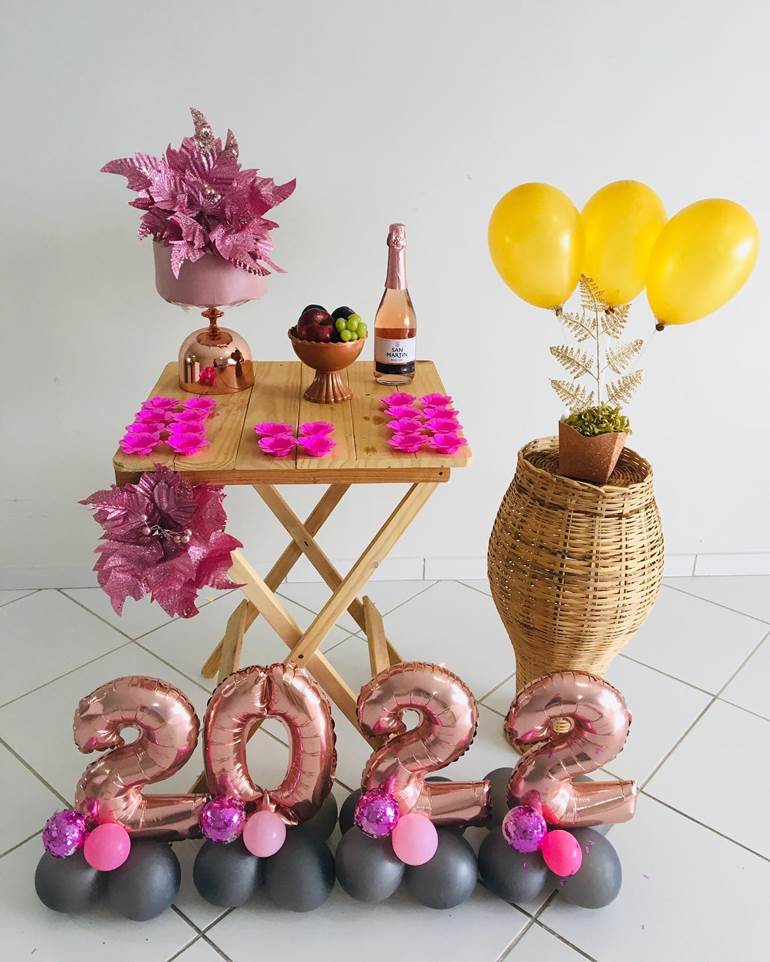 A silver and gold ribbon curtain is also sensational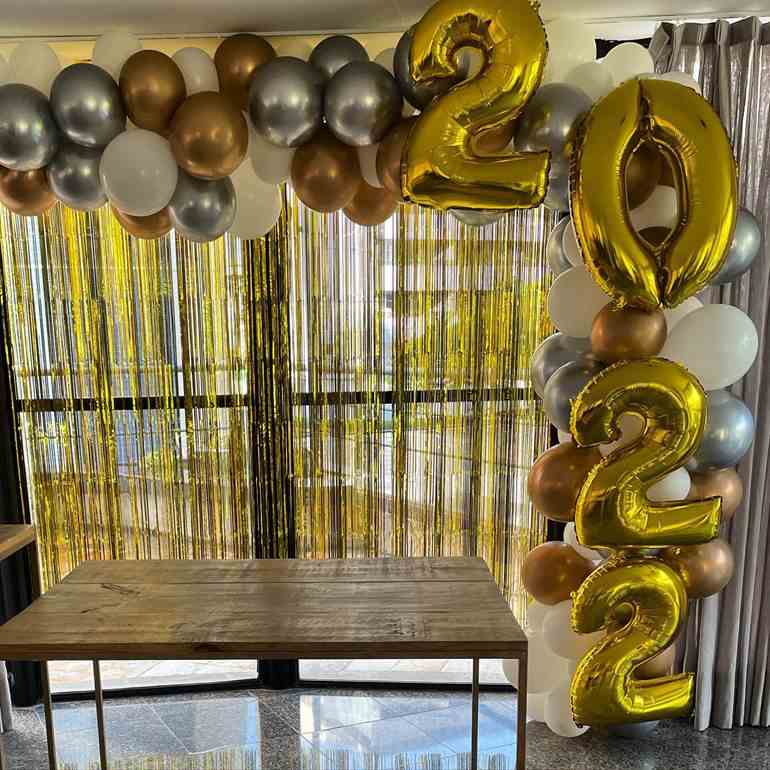 Filling the plant table with metallic balloons is simple and beautiful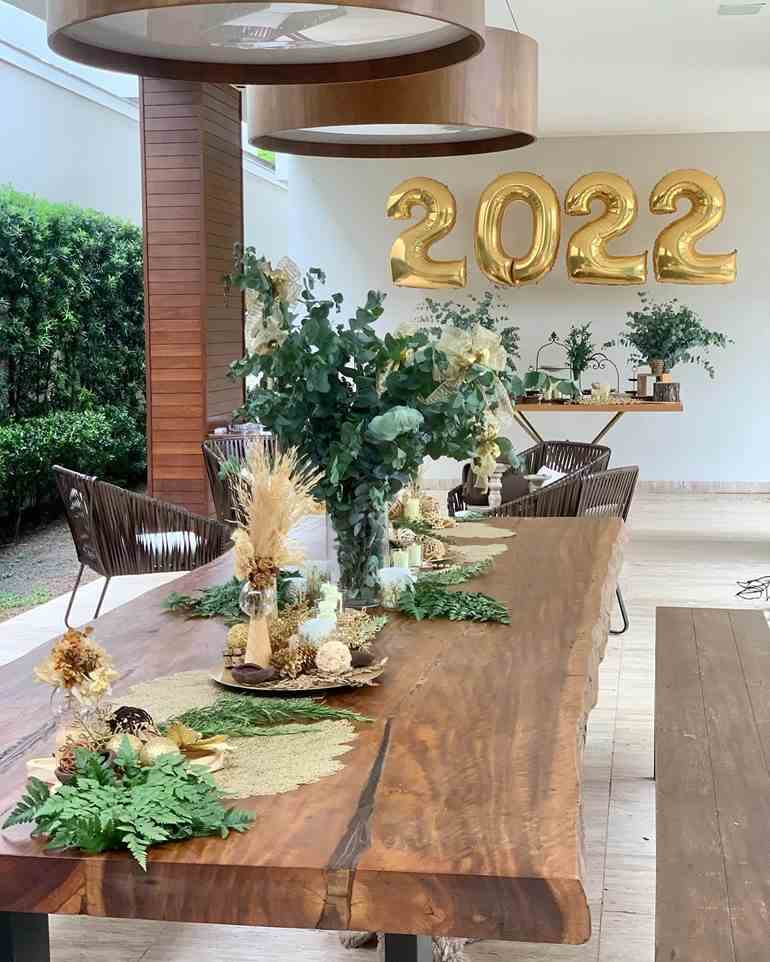 Or make a waterfall out of translucent balloons to add charm.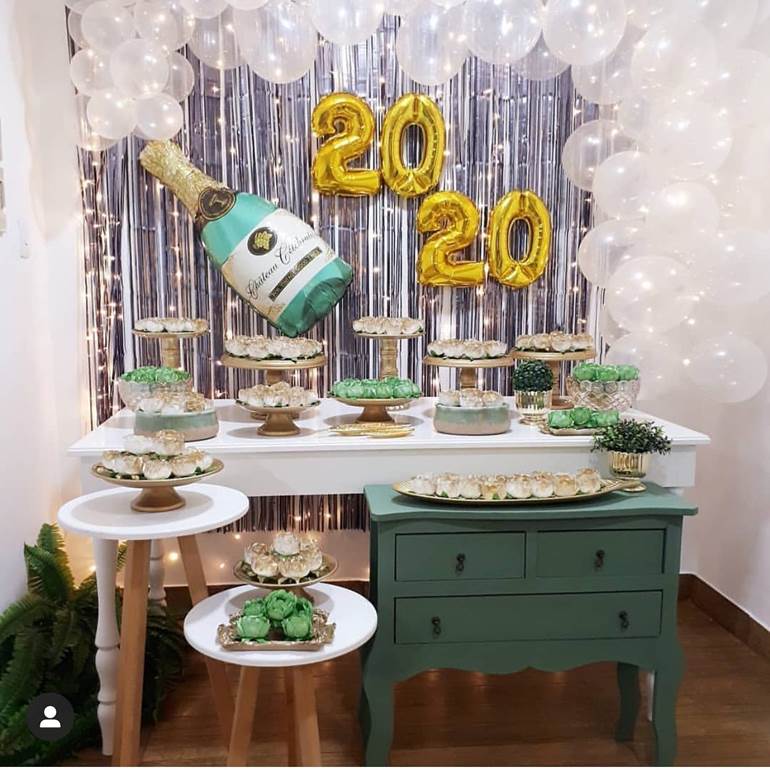 A decoration with silver ribbons and blinkers is amazing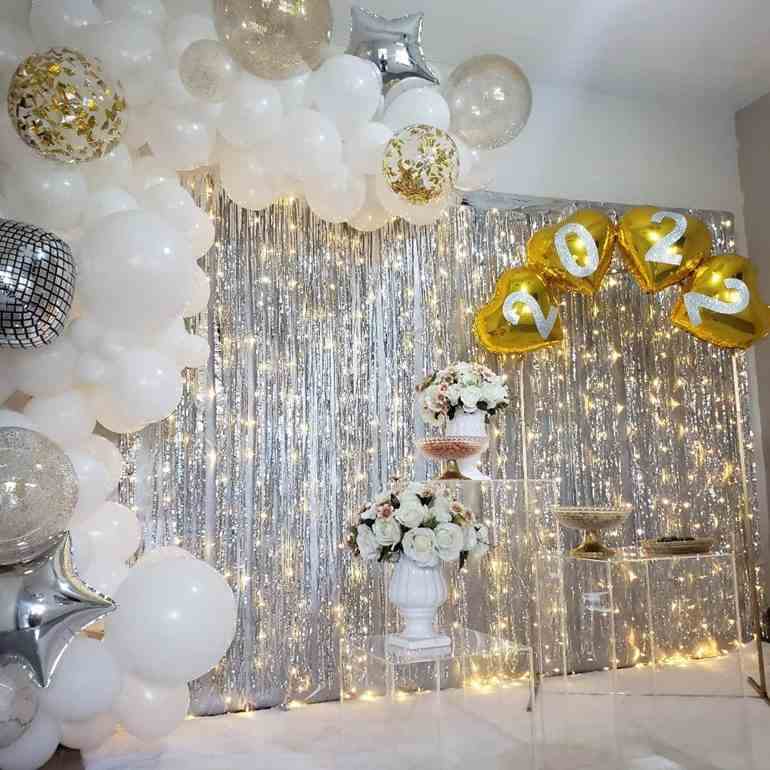 In this particular moment, you can abuse everything flashy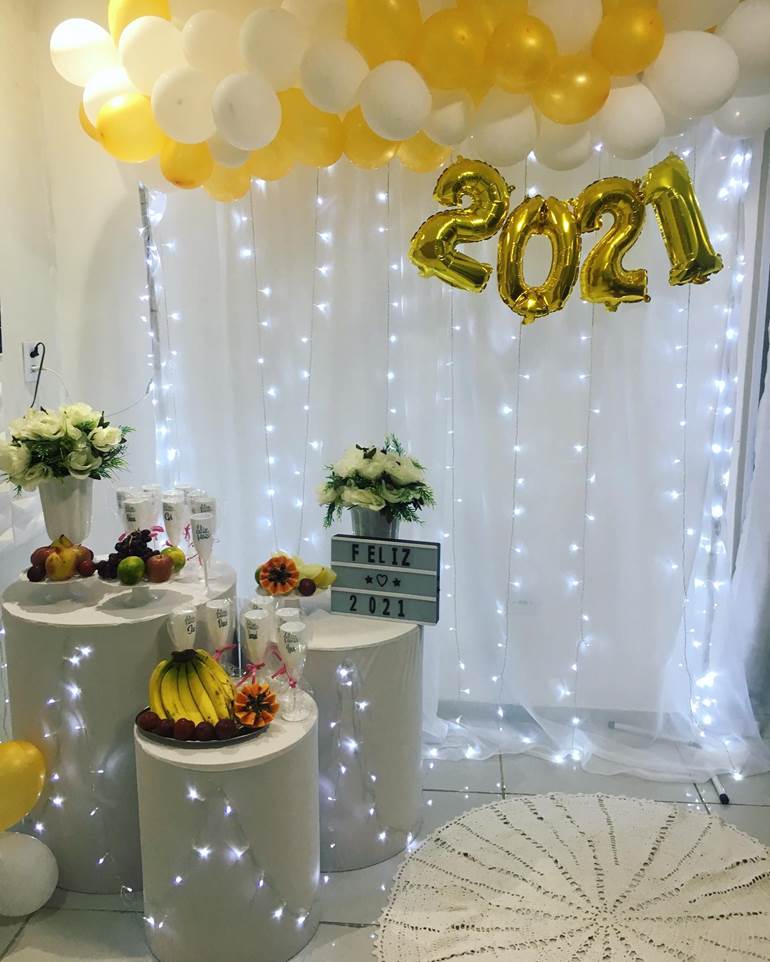 Because the arrival of a year is something that only happens once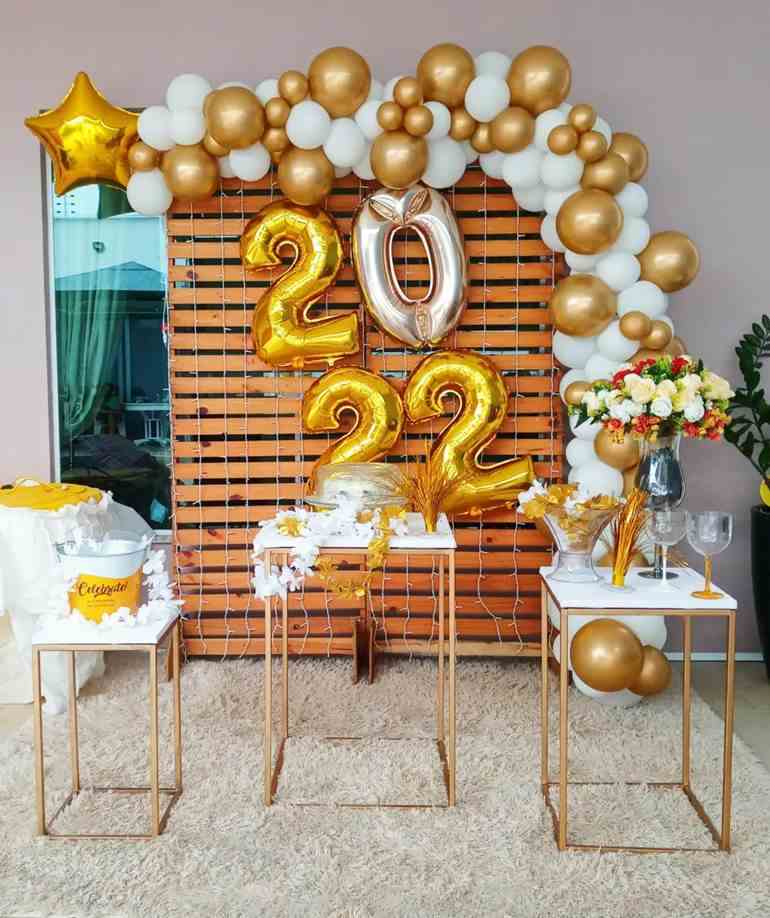 For everyone to burst with joy, it's essential to let the creativity flow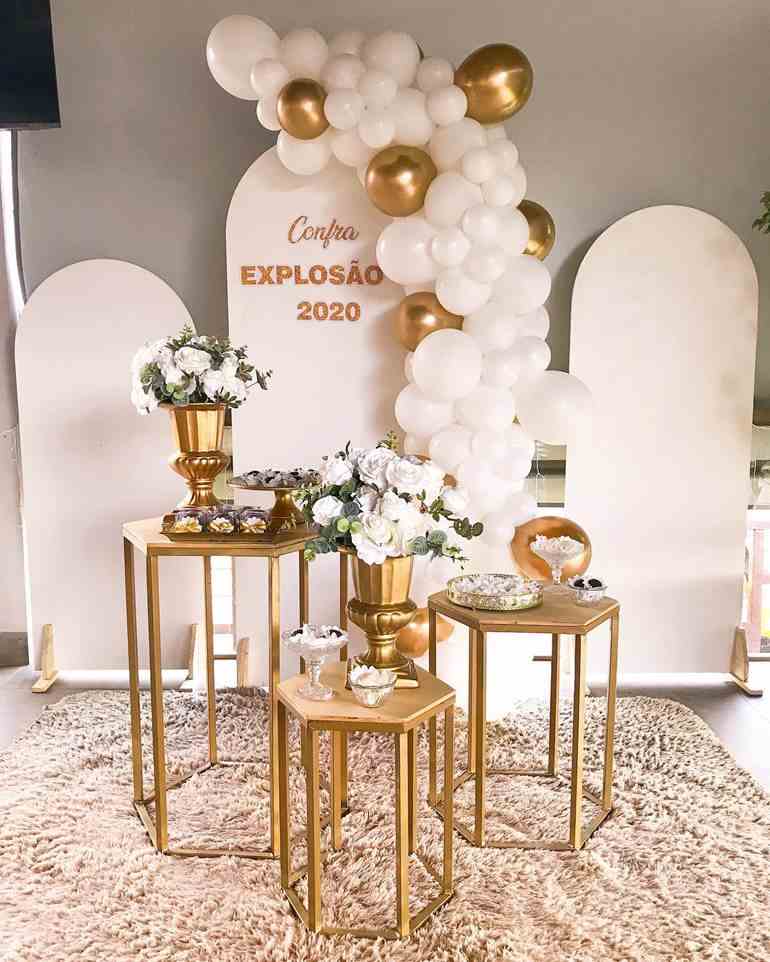 The great idea is to use gold stars in the decor.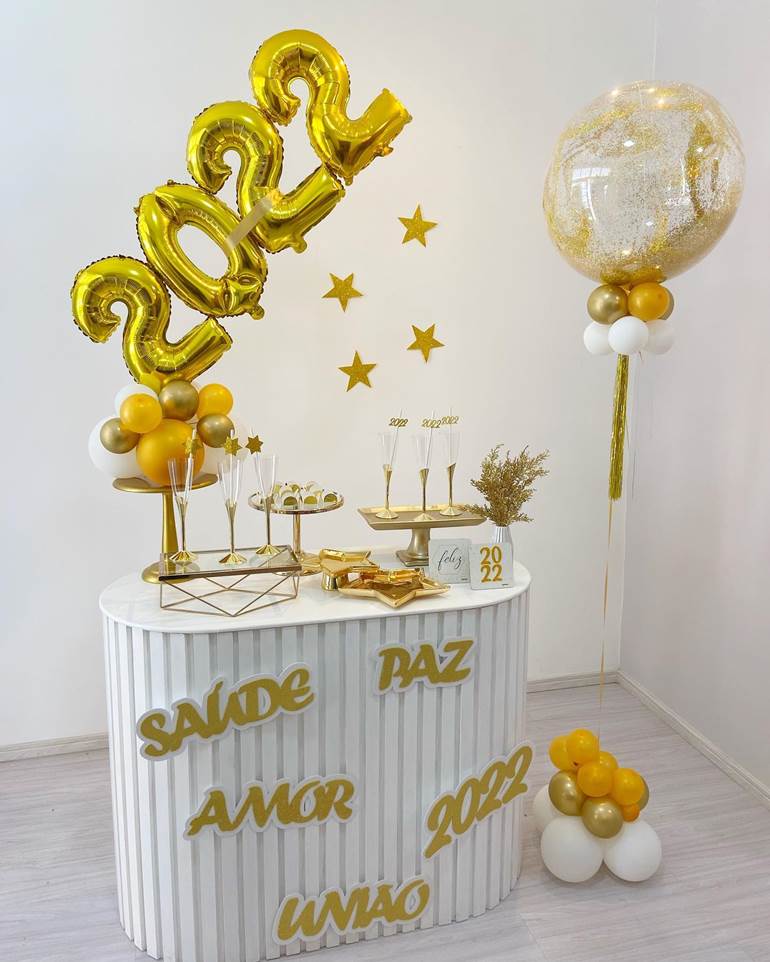 And potted plants match the occasion perfectly.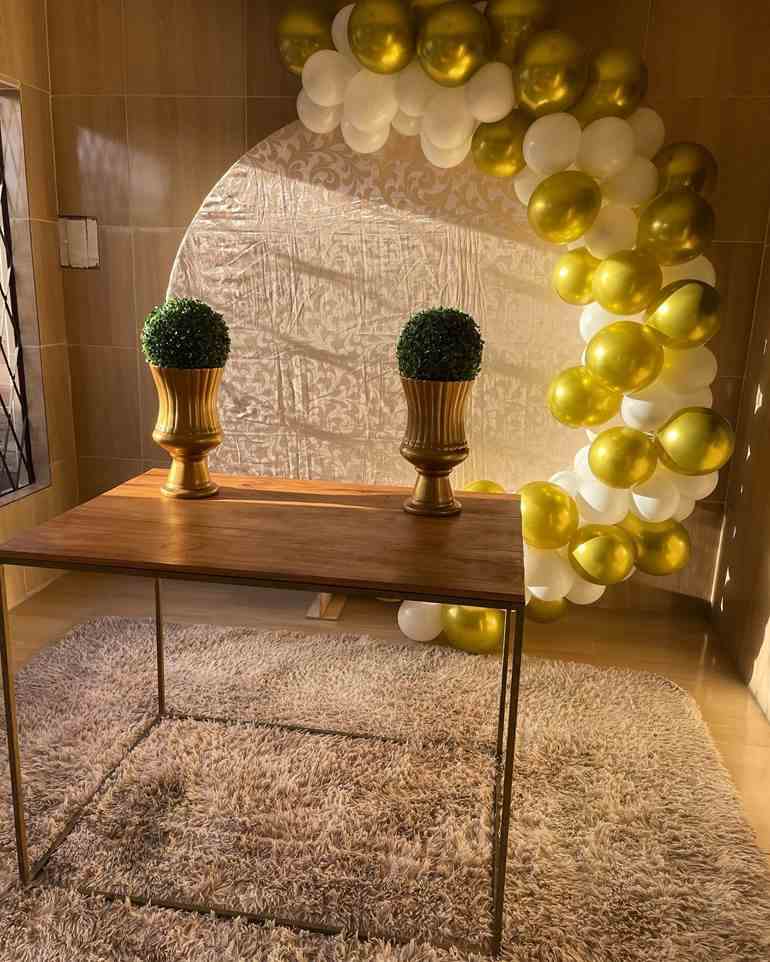 Balloons in shades of blue with other colors go well together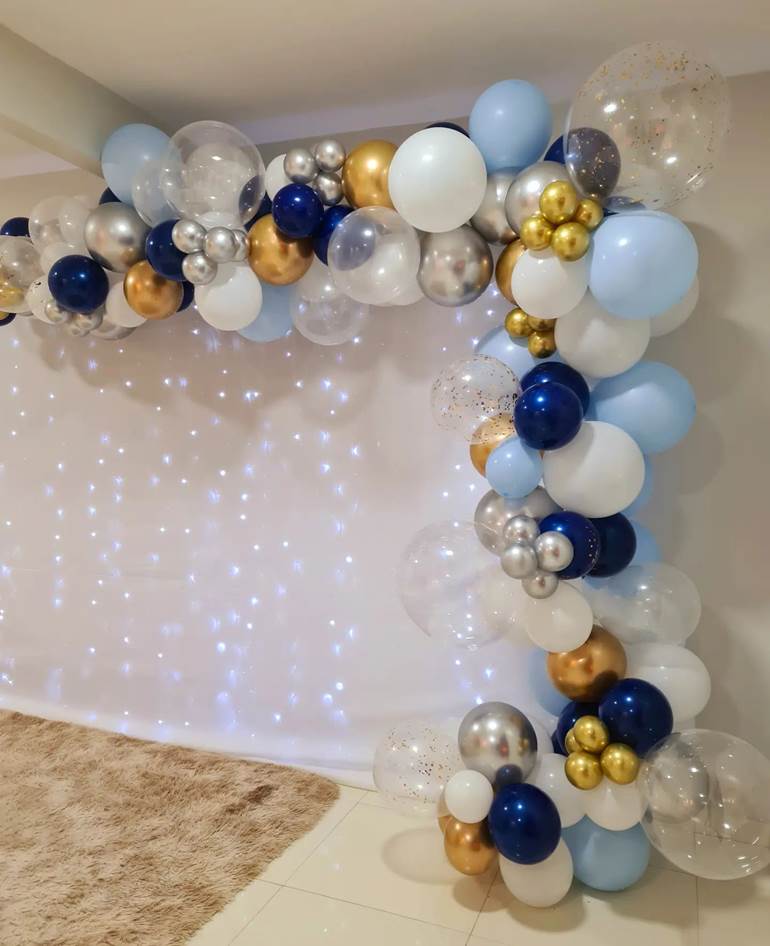 The great idea is to put pearls inside bowls, and it looks too chic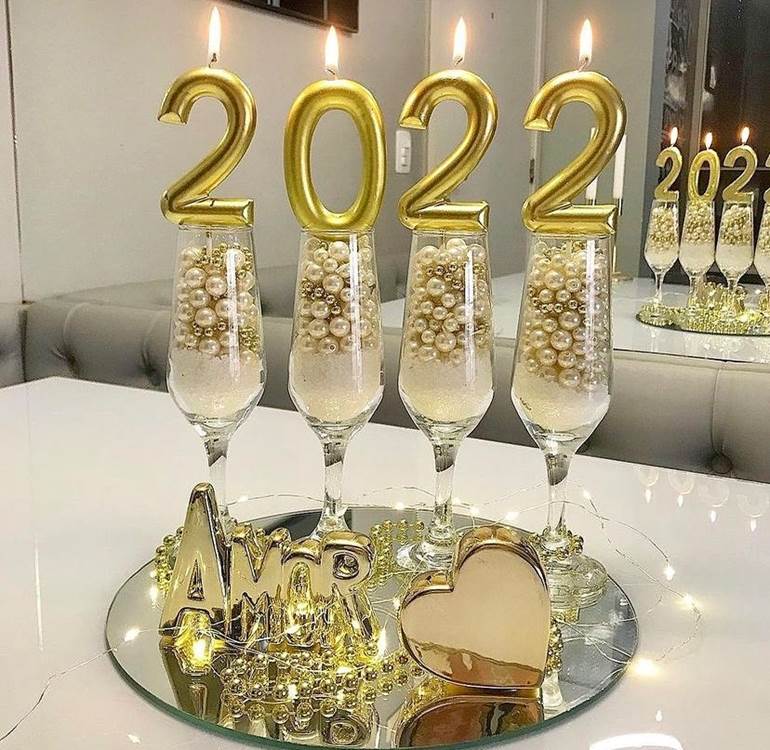 Using flowers with a golden color is also wonderful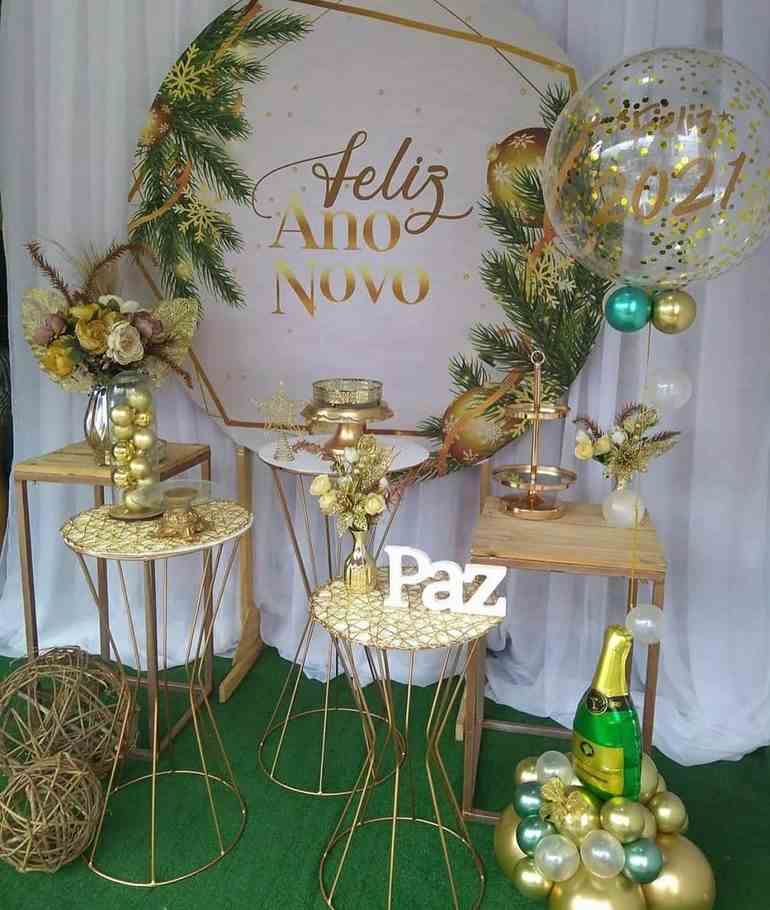 Or metallic pink balloons with silver ribbon
How about a minimalist and beautiful decoration? Bet on this trend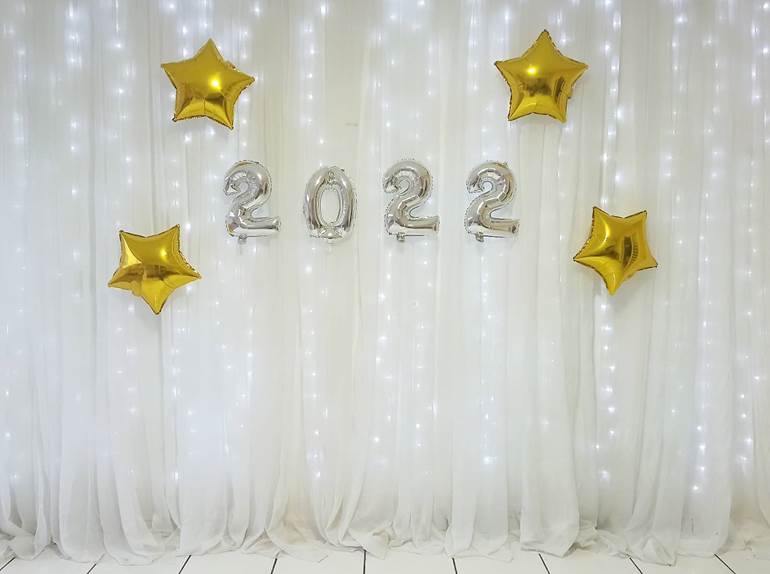 A well-made backdrop for photos is made with balloons and blinkers.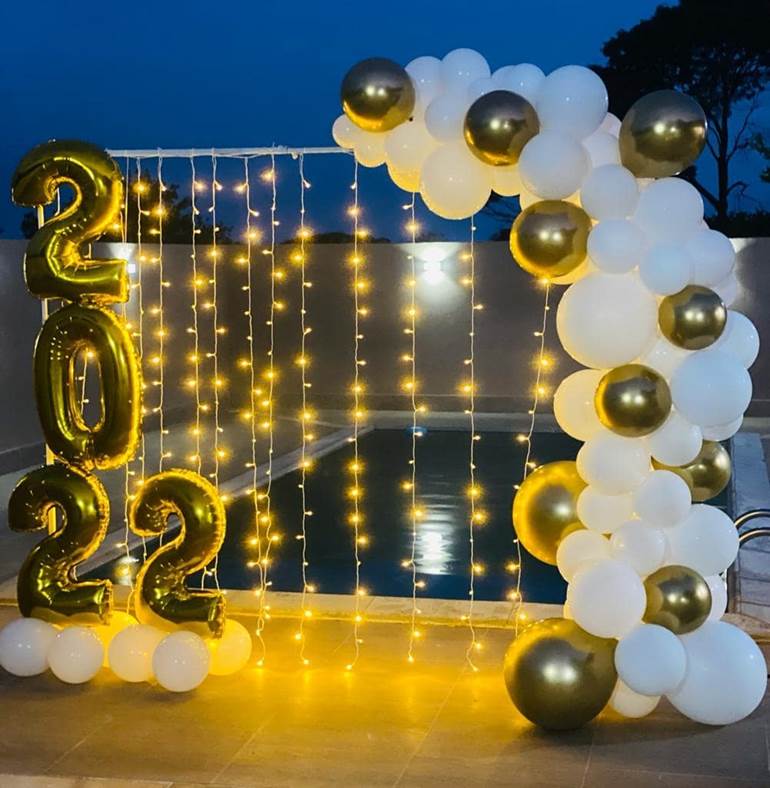 It's also cool to stick balloons on the wall to make it look like they're floating.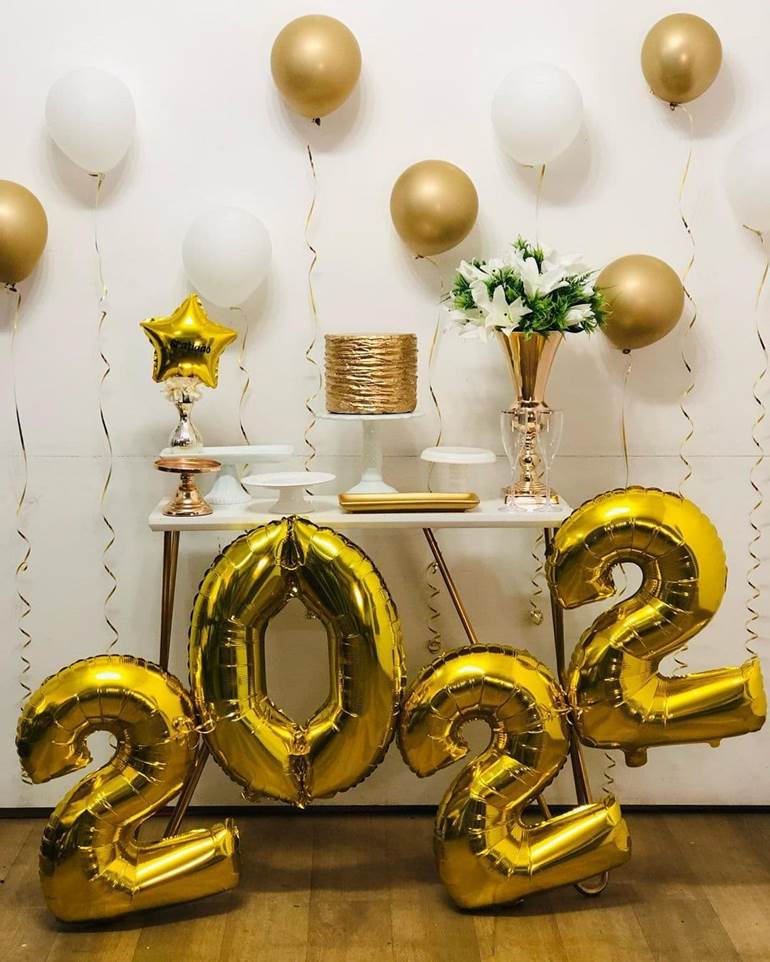 Or make a bubbly by pouring balloons for fun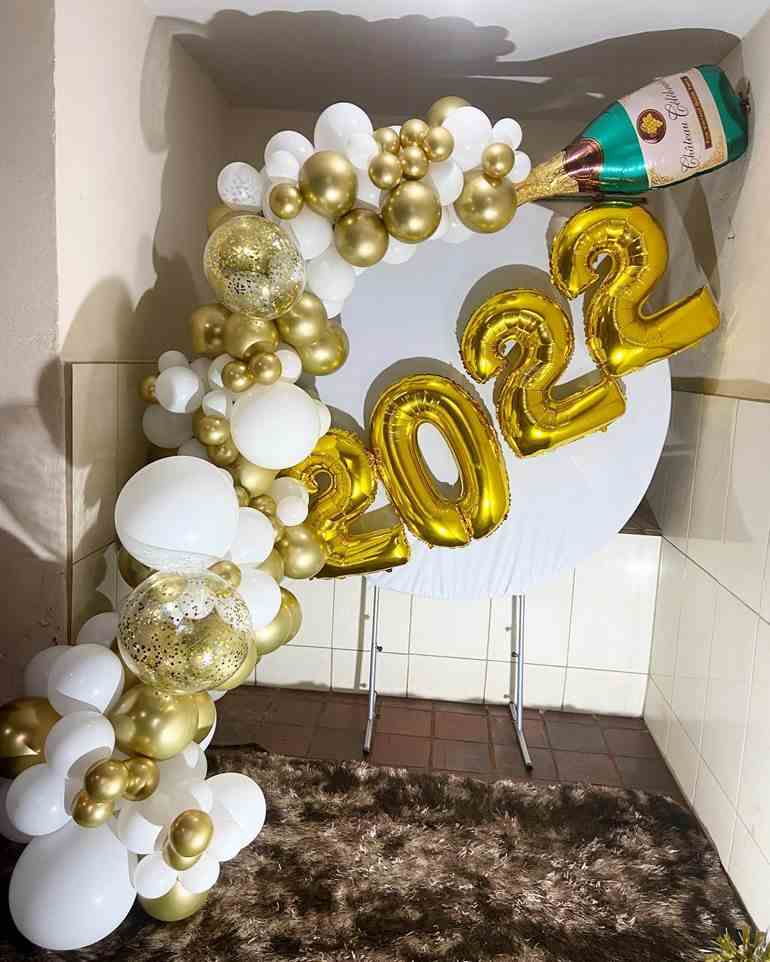 Gluing metallic "Happy New Year" balloons are simple and beautiful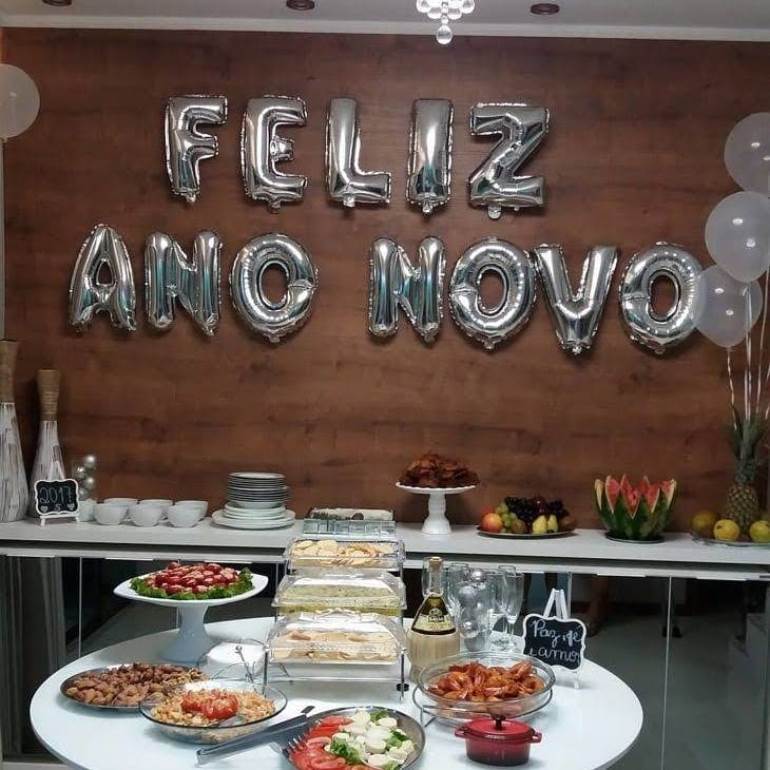 And a simple panel with lots of balloons is cheap.
Inspiration is to mix silver and gold, and it looks wonderful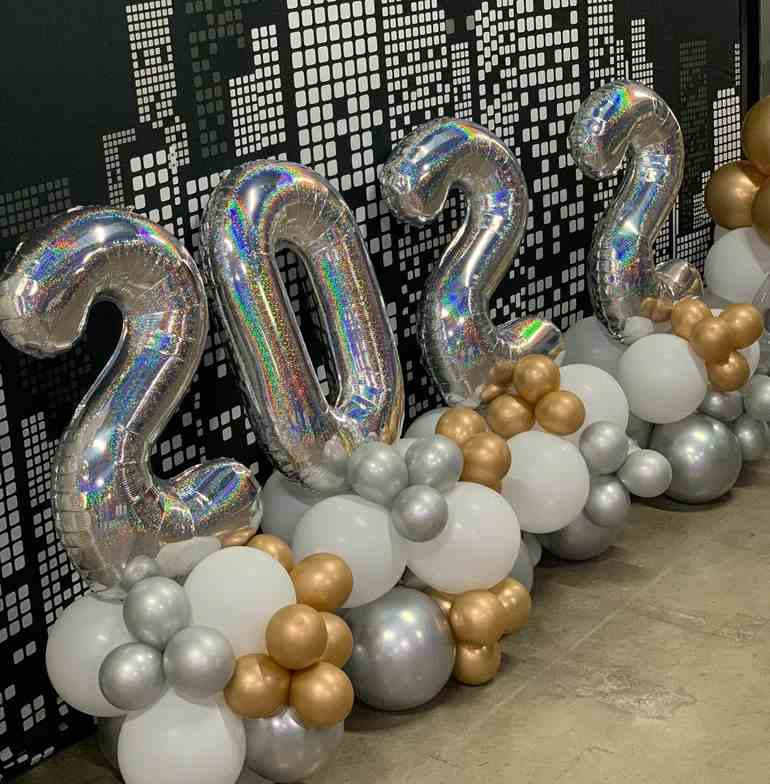 A cup can also spill balloons, right?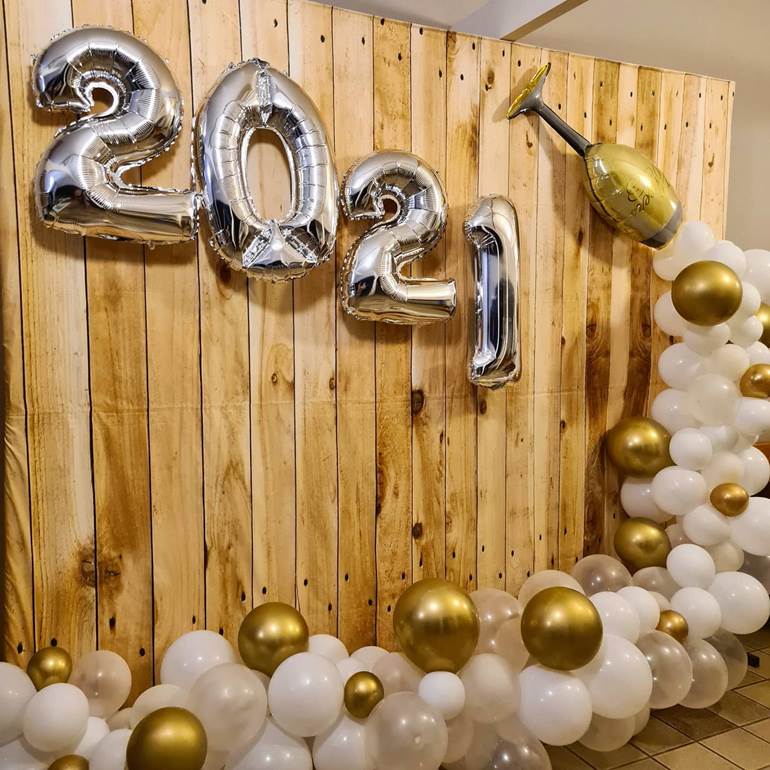 How about lighting up the New Year with sparkling stars?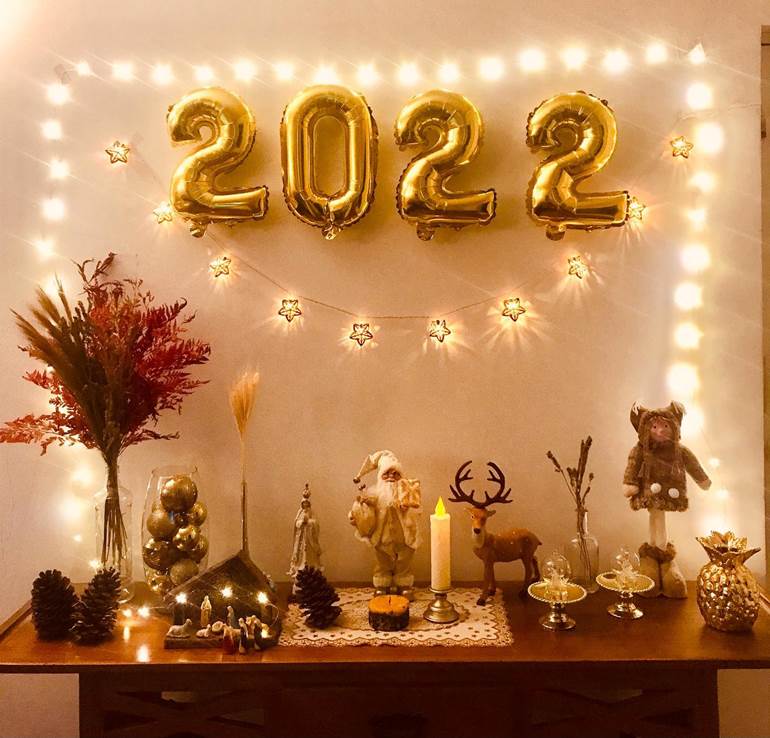 Mixing warm and cold tones is also perfect, as you can see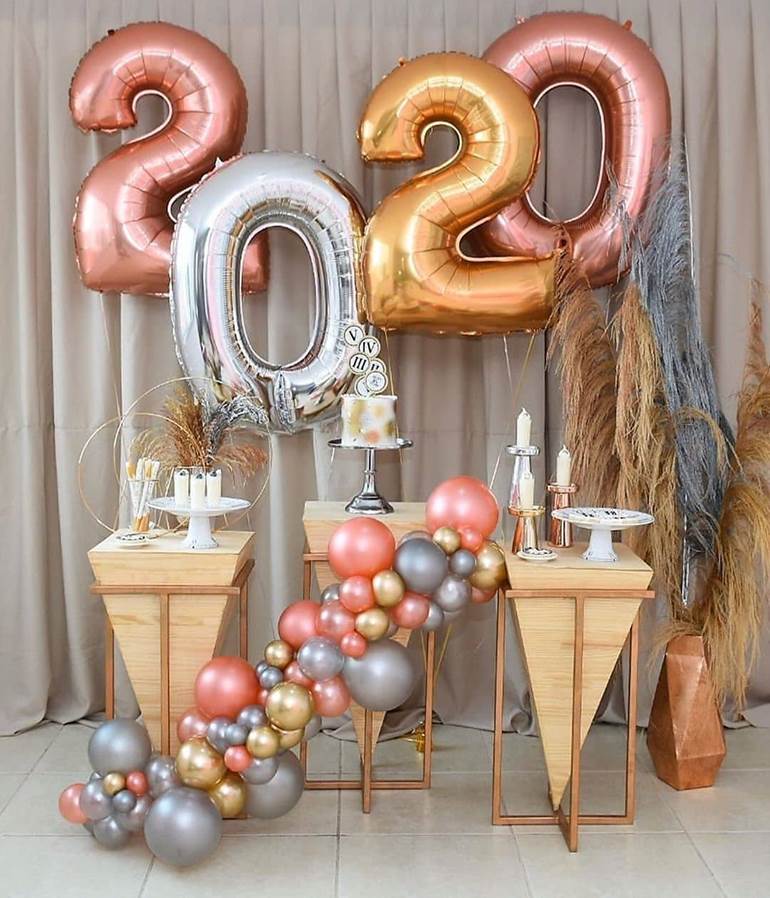 In this way, your celebration will be magnificent for everyone.